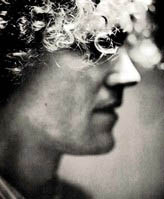 Lars Frost, born 1973, Copenhagen, Denmark.
1994-96 A student at Odense universitet, Center for litteratur og semiotik.
1996-98 A student at Forfatterskolen (National School of Creative Writing, Copenhagen).
Since 2000 his been teaching creative writing in various places and writing for newspapers and magazines.

2000 "Og så af sted til Wien" (And then off to Vienna), short stories, Lindhart & Ringhof
2001 "Allermest undrer det mig at vi kan glemme" (Most of all I Wonder Why Do We Forget) novel, Lindhart & Ringhof
2004 "Smukke biler efter krigen" (Beatyful Cars After the War) novel, Gyldendal
2006 "Et par dage" (A couple of days) poems, Gyldendal
2008 "Ubevidst rødgang" (Uncouncious Jaywalk) novel, Gyldendal
He has been nominated for a number of danish literary awards – Kritikerprisen, Weekendavisens litteraturpris, P2s romanpris, Montanas litteraturpris – but has never won any of them.