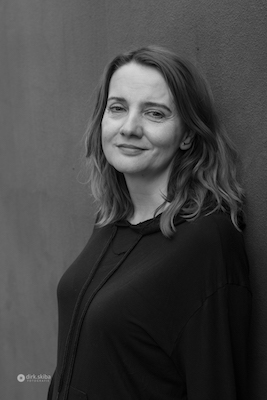 Photo: Dirk Skiba
Stefania Mihalache was born on August 15, 1978. in Brasov.
She graduated from the Faculty of Philology in Brasov, Romanian-English department. Between 2000 and 2001, she attended master's lectures at the Central European University in Budapest. She debuted with poetry in the student magazine Erata. She continued to publish poetry, but also prose, literary chronicle, literary criticism and essays in important magazines such as Vatra, Observator cultural, Cuvântul, Dilemateca, Noua Literatură, Tiuk!, Pana mea, Time out, Bookaholic, Iocan, Caiete critic, Transilvania, Opt motive, DLITE, Scene 9, Poetic Stand. As a translator of poetry, she collaborates with the magazine Poesis International.
She made her prose debut with the novel Est-falia, which was published by Editura Paralela 45 in 2004. The novel was nominated for the Marile Premii Prometheus, ediția a IV award, in the Opera Prima category.
In March 2010, she published the novel Secretary's Poems (Poemele secretaryi) by the publisher Editura Cartea Românească from Bucharest.
In 2010, she participated as an invited writer at well-known European literary festivals: Scritture Giovanni, Mantua, Italy, Hay Festival of Literature & Arts, Great Britain, Literary Salon in Turin, Italy.
Between 2007-2018. writes scripts for television.
In 2012, she received the title of Doctor of Philology at the Faculty of Philology of the University of Bucharest, with a thesis on the theme of childhood in Romanian prose after 1989.
It is present in the book Povești cu scriitoare și copii, Editura Polirom, 2014.
In 2016, she debuted with poetry. The book Fixing and gripping systems (Sistema de fixare și prindere) was published in the Vorpal collection by Editura Nemir. For that book, she received the Premiul Matei Brâncoveanu pentru literatură award and was nominated for the Premiile Radio România Cultural award.
In 2019, she received the Boccace Prize for short prose in France.
In 2019, the publisher Editura Paralela 45 published the book of literary criticism Copilăria, Reconstituiri literare după 1989, nominated for the Premiile Observator Cultural award, 2020, in the category Literary criticism / Literary history / Literary theory and for the "Discrete Book of the Year" award for 2020 .
She is present with texts in the bilingual anthology of Romanian and Spanish poetry Shadows, fires and mansards (Sombras, incendios y desvanes / Umbre, incedii și mansarde), Editura Vaso Roto, Madrid and Guadalajara.
In 2021, in the publishing house Editura Nemira, in the Vorpal collection, she publishes the book of poetry Cronica Akasha, nominated for the Premiile Radio România Cultural 2022 and Premiile Observator Cultural 2022 awards, in the category of poetry.
In 2021, the novels Est-falia and Poemele secretarei were republished by the publishing house Editura Casa de Pariuri Literare. In 2022, the book of short stories Dominant genes was published by the publishing house Editura Humanitas, nominated for the Premiile Observator Cultural 2023 award, for prose and winner of the Premiul "Observator Lyceum" award.