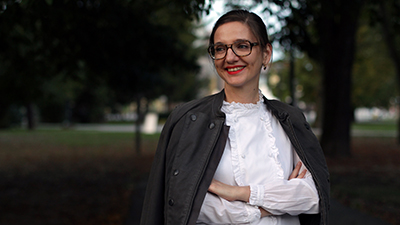 Tanja Novak (Čakovec, 1977) is an M.Sc. Journalism, M.Sc. theater studies, and a university specialist in drama pedagogy.
She won the Little Marulić Award for the best play text in 2018 at the eponymous festival of Croatian children's drama in Split for the play "Snail Husband", and the Award for the best play text for the play "I'm not afraid of the wolf" at the 6th FEDU festival in Sarajevo in 2020.
With the drama "Home Visit", she entered the finals of the Marin Držić Award for 2012. The drama text was published in the magazine "The Phantom of Liberty". With the poetry "The sum of all things" she entered the finals of the Algoritm and Comma competition "Tip of the Tongue"* in 2011.
She published her first book, a collection of stories "Mother Museum", in 2013.
She is engaged with dramaturgy in a theater for children and young people, works as a drama pedagogue at the Croatian National Theater in Varaždin, and is an external associate/lecturer at the Teachers' Faculty.