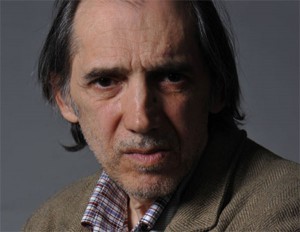 Slobodan Tišma was born in 1946 in Stara Pazova. He studied literature in Novi Sad and Belgrade. In his youth worked as conceptual art and rock music. He lives in Novi Sad. He was editor of the "Index", "Field" and "Youth Tribune". A long-time associate at the Novi Sad television broadcasts "Cultural Magazine", "Videopis" and "Constellation book". He published nine books:
"Marinizmi" (1995)
"The Garden as it" (1997)
"Blues diary" (2001)
"Poems" (2005)
"Urvidek" (2005) was awarded by "Stevan Sremac",
"Quattro Stagioni" (2009) was awarded by "Biljana Jovanovic",
"Bernardi's Room" (2011) was awarded by NIN
"Triangles Squares" (2013) and
"Great minds by small Tišma" (2013).
Other awards: Award for Most Read Book by the National Library of Serbia, The award of regional fair of translators in Pazin, the award " Milovan Vidaković", the award "Todor Manojlovic", the prize for creativity of the Institute for Culture of Vojvodina. The magazine "Gradina", the number 17/2007, published a literary portrait of Slobodan Tišma. Journal "Fields" in the number 464, July-August, 2010, also published literary portrait of Slobodan Tišma. He is a member of the Serbian PEN.