Andrea Popov Miletić (1985) is the author of the collection of stories "Bezazlene crtice" (Innocent dashes) published in the edition Prvenac, SKC Kragujevac, 2013. Thanks to the competition of the Third Square, she published the novel "Pioniri maleni, mi smo morska trava" (Little pioneers, we are seagrass) (Belgrade, 2019). And in the selection of the NIN Award and shortlist of the Vital Award "Golden Sunflower". The novel experienced its second edition for Bulevar books (Novi Sad, 2021). Haiku in English was published in the online and printed collection Vladimir Devide Haiku Award (The International Academic Forum, Osaka, Japan). She won the first prize of the 14th West Herzegowina Fest for the short story "Čovek koji nije video Deda Mraza" (The Man Who Didn't See Santa Claus); Široki brijeg, BiH, 2016. The story "Ja sam svakog dana sve više nemirna" (I am more and more restless every day) is published in the multilingual collection Biber 02, CNA, Belgrade / Sarajevo, 2018. Represented in printed and online magazines: Manuscripts, Notebooks, Cardboard, Affirmator, Regional Competitions, Balkan Express , PULSE, Alma, Republika, knjizevnost.org, strane.ba, Polja, astronaut.ba, covjekcasopis.art.blog, Libartes. Diary notes "Ostani suva danas" (Stay Dry today) are published as a result of a residency in Pecs, a project realized in cooperation with the Novi Sad 2021 Foundation and the Pécs Writers' Program Pécsi Íróprogram (Hungary, 2017). It is included in the anthology Novi Sad Women's Prose: Petković). Her prose has been translated into Macedonian, Albanian, German and English. Her prose excerpts were also found in the collection The Last Atari Generation: A Panorama of Novi Sad Prose Writers of the Eighties (Zenit, 2021), as well as in the Novi Sad Literary Bedeker (Bulevar books, 2022).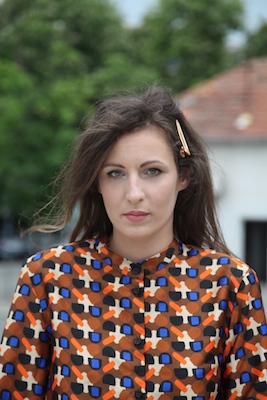 Ana Marija Grbić was born in Belgrade, where she lives and works. She is currently in her final year of doctoral studies at the Faculty of Philology in Belgrade. She is the author of three collections of poetry: "Da, ali nemoj se plašiti" (Yes, but don't be afraid), "Venerini i ostali bregovi" (Venus and Other Hills) and "Zemlja 2.0" (Earth 2.0), one oral biography "Idoli i poslednji dan" (Idols and the Last Day) and a collection of stories "Srneća leđa" (Deer's Back). She is a mentor of creative writing of the workshop O / Freedom of hands. She is the founder of the literary organization ARGH and the editor of ARGH electronic and audio books. She works at the Radio Television of Serbia and she is a member of the jury for various literary awards. She has stayed at many literary residencies in the country and abroad. Apart from writing, she is also engaged in naive painting.
Kritičar-pisac
Saša Ćirić (1975) graduated from the Faculty of Philology in Belgrade. He works at Radio Belgrade 2, where he follows post-Yugoslav and Balkan literature. Literary critic of the weekly Novosti from Zagreb since 2009. He was the editor of Beton, a supplement to the daily Danas (June 2006 – December 2018). He has published books of literary criticism and comparative analysis: "Užici hermeneutike" (The pleasures of hermeneutics) (Gradska biblioteka "Žarko Zrenjanin", Zrenjanin, 2009), "Ujed istorije" (The bite of history) (Plima, Ulcinj, 2009), "Ne Uzimaj me u usta – kritika zajedljivog uma" (Don't take me in your mouth – a critique of the caustic mind) (Sandorf, Zagreb, 2016) and "Novi ljudi" (New People) (between retro-utopia and neo-historical farce) (Cultural Center of Novi Sad, 2020). He published the book Radio Drama and Drama: "Tri radio drame" (Three Radio Dramas) (author's edition, Belgrade, 2015) and "Dalekovod" (Transmission line) (KPZ Beton, 2017). He published the book of film analyzes "Vilinska igra u Svetoj šumi" (Fairy Game in the Holy Forest) (House of Culture "Student City", Belgrade, 2021).