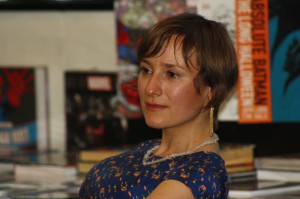 Author, poet and translator, Siân Melangell Dafydd's first published novel, Y Trydydd Peth (The Third Thing; Gomer, 2009) won her the coveted 2009 National Eisteddfod Literature Medal. She writes in both Welsh and English and often collaborates with artists of other disciplines (dancer Sioned Huws' Aomori Project; book Ancestral Houses: the Lost Mansions of Wales/Tai Mawr a Mieri: Plastai Coll Cymru with poet Damian Walford Davies and artist Paul White [Gomer 2012]). In 2013, she was selected as one of the British Center for Literary Translation Mentorship Programme. She publishes her short-fiction and poetry widely, for example 2014's Best British Poetry and Best British Short Story. She is currently working as a Creative Writing Lecturer at the American University of Paris.
She is the co-editor of yneuadd.com which nurtures new voices as well as the literary review, Taliesin – both in the Welsh language. The alchemy of collaboration interests her – translating between words and movement (dance, yoga) as well as between words.
Forthcoming are her second Welsh language novel, a collection of pair poems with Malayalam poet, Anitha Thampi and yoga storytelling books for children.