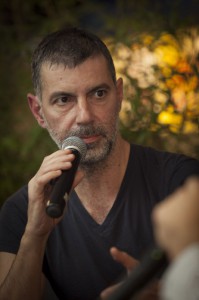 Rade Jarak was born in Dubrovnik (Croatia) in 1968. He published about twenty books. He works as a teacher of drawing and painting. He lives in Zagreb.
Published works, books:
Novels: The Rain, Salt, The Potato Soul, Encyclopedia of Despair, Deserts (Zagreb 2008, Belgrade 2008, Skopje 2012,) "Jutarnji list" Award 2009. i Yu Puzzle (Belgrade 2013, Zagreb 2014.)
Diaries: Japanese Diary (diary from Japan 2009-10.) i Tomorrow (diary: 2009-11.)
Short novels: Tango (novel-poem), Wakamono i Yellow
Collections of stories: Termites and other stories, Black Silk i Playa
Science fiction novel: The Horrible
Essays: The Praise of Street
Poetry: Daemon in The Bathroom Steam, Train to Bangalore i Kaya
---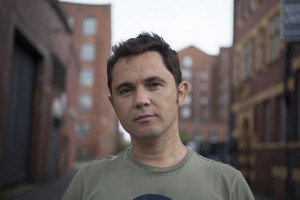 Roman Simić was born in 1972 in Zadar. The editor of the literary magazine, founder and artistic director of the festival of European short stories. As a prose writer he has been included in several anthologies and reviews of Croatian prose and his stories have been translated into a dozen languages. Published: "In the Moment Like in the Wilderness" (poetry, 1996); "A place where we're Going to Spend the Night" (stories, 2000); "What are we falling in love with" (stories, 2005); "Feed me" (stories, 2012). The book "What are we falling in love with" won the Jutarnji list Prize for the best Croatian prose book of the year 2005. and has been translated into German, Spanish, Slovenian, Macedonian and in Serbia was published by Arhipelag. Collection of stories "Feed me" has won Cyclops for the best prose literary work in Croatia in 2012, translated into German, and one of the stories from this collection has won Ranko Marinkovic. Roman Simić worked as an editor at the publishing house Fraktura.
---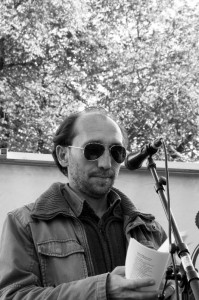 Slađan Lipovec was born in Bjelovar in 1972. His writings have been published in literary magazines and journals in Croatia and abroad as well as on Croatian radio.
He published four books of poetry: Posljednja topla noć (The Last Warm Night, with E. Rudan and D. Peričić, 2002), Emily Dickinson u mom gradu (Emily Dickinson in my Town, 2003; second, electronic edition 2006), Rijeke i mjesečine (Rivers and Moonlights, 2007, second, electronic edition 2010), and U nekoj od mogućih stvarnosti (In One of Possible Realities, 2010).
Slađan also edited and co-authored Teslin dan (Tesla's Day, with Vladimir Končar, 2006, second edition 2007), an educational CD-ROM on the life and inventions of Nikola Tesla.
His short stories and poems won a number of literary awards and were translated into several languages as well as included in anthologies of contemporary Croatian literature. He serves as the executive editor of Quorum, one of the most important magazines for literature in Croatia.