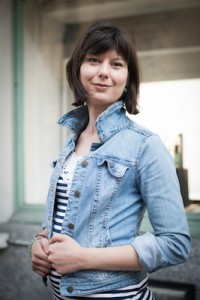 Anna Ospelt (*1987 in Vaduz, Liechtenstein, lives in Zürich) studied sociology, mediastudies and pedagogic sciences and achieved her master degree 2012 summa cum laude. Over three years she wrote a weekly column for the university newspaper "Gezetera" and a column for the "Basler Zeitung". She worked as intern at the publishers "Suhrkamp" and "Aufbau" in Berlin, and writes articles and reviews for "NZZ Campus", "Schweiz am Sonntag" and "Zeitnah.ch". In 2012, Anna Ospelt was part of a patronage for young writers of the Aargauer Literaturhaus Lenzburg. 2013 she got a scholarship of the "Kulturstiftung Liechtenstein." Most of her shortstories were published in the swiss literature-magazine "Das Narr" as well as in other magazines like "Juli" and "Kolt". Some of her stories were read 2010 and 2011 at the "Treibstoff Theatertagen" in Basel and 2013 at the literature festival "Buch Basel". In autumn 2014 Anna Ospelts first book, called "Sammelglück", comes out.
www.literatursalon.li/Autoren/anna-ospelt
---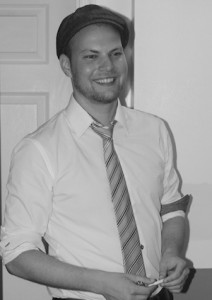 Liechtenstein-born writer Daniel Batliner was born on June 23, 1988, in Vaduz and grew up in Eschen. He is member of the writer's associations PEN-Club and IG Wort. He studied Philosophy and Political Science at the University of Lucerne. He wrote several successful plays ("Wodka Nicotschow", "Einmal Oberland, bitte!", "Schwarze Farbe auf Leinwand") which were shown in Liechtenstein and Switzerland. On many occasions he was on stage himself as a comedian, moderator or actor. In addition to his theater work, Daniel Batliner is co-organizer of the "Literatursalon", a platform for writers in and around Liechtenstein, since 2011. He received international recognition when his short story, A Malcontent's Monologue, was published in the American anthology "Best European Fiction". In November 2012, he was awarded with the "Prix Kujulie", a prize for young artists in Liechtenstein. In November 2013 he was invited to do a public reading of his work at the highly-esteemed Goethe Institut in Washington. Liechtenstein Ambassador H.E. Claudia Fritsche, who was in attendance, remarked that, "Daniel Batliner impresses with his capability for expressions, his honesty in creating characters and their environment, and his sensibility for perceiving emotions."
Homepage: www.literatursalon.li/Autoren/daniel-batliner (German; no English version)
Facebook: www.facebook.com/danielbatlineroffiziell (On this site I share news in German and English)
www.vaterland.li/page/kul/index.cfm?id=17430
www.vaterland.li/index.cfm?source=lv&id=20839
de.nachrichten.yahoo.com/ikr-lesung-von-daniel-batliner-im-goethe-institut-000000728.html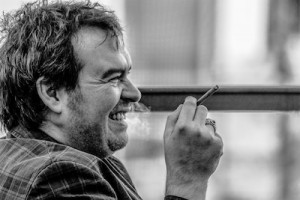 Patrick Kaufmann was born on 11 January 1971 and went to school in Liechtenstein. After qualifying as an architect he studied art and philosophical aesthetics at the Academy of Art in Basel.
"Patrick Kaufmann, whose approach to the medium of text is heavily influenced by his work in the fine art field, is not so much an author who writes conceptually and schematically, as an author who draws, designs, carves the language, who sometimes kneads it uncompromisingly before remodelling it with care. This is an author who intuitively (de)constructs language and who ultimately celebrates it with passion. His diction is the diction of a prophetic madman, his texts resemble whetstones – ideal for sharpening blunted senses. Whosoever reads Patrick Kaufmann rigorously is often left with little more than a smile. Although a smile that sticks in the throat."
Sebastian Goop