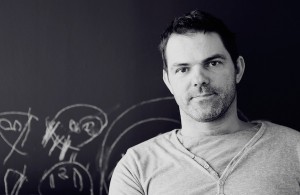 Uros Sadek was born in 1973.
He is a sociologist by education, but he is working as a copywriter at an advertising agency for 10 years.
He has published two books of short stories ("Carousel" in 2005 and "Other Stories" in 2011).
He was one of four finalists for the "Dnevnikova fabula" award for the best Slovenian collection of short stories.
He is the father of two children and lives in Ljubljana. He likes traveling and mountaineering.
Links:
http://knjiga.dnevnik.si/sl/Dnevnikova+fabula/847/Nominiranec+Uro%C5%A1+Sadek+in+zbirka+Druge+zgodbe
http://www.dnevnik.si/novice/kultura/1042525526
http://www.pogledi.si/knjiga/kratkocasno
http://www.studentskazalozba.si/novice/6132/znani-so-nominiranci-za-dnevnikovo-fabulo-2012
http://www.dolenjskilist.si/2011/11/12/70266/novice/dolenjska/Druge_zgodbe_Urosa_Sadka/