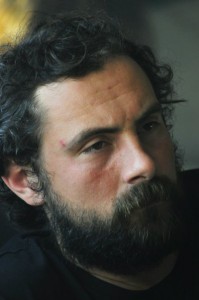 Cosmin Perca was born in 1982.
He graduated in literature from the University "Babes-Bolyai".
He received his Ph.D. in East European fantastic literature.
He has published several books of poetry, novels and essays.
---
VÁRADI NAGY Pál
Curriculum Vitae
Surname: Nagy
Given name: Pál
Pen name: Váradi Nagy Pál
Born in 1985, Oradea/Nagyvárad, Romania
Mother tongue: Hungarian
2009- : editor and web coordonator at the regional public station Radio România Cluj / Kolozsvári Rádió (www.kolozsvariradio.ro)
2009- : collaborator at the Romanian Public Television (TVR)
2008: BA in Hungarian and Finnish Language and Literature, Babeș-Bolyai University, Cluj-Napoca/Kolozsvár, Romania
My works were published for the first time in the Látó literary magazine in 2005. Since then my short stories and poems appeared in numerous other magazines in Romania, Hungary and Slovakia. My works' been included in the following anthologies:
Használati utasítás. Versantológia, Palatinus Kiadó, Budapest, 2008,
A meghajlás művészete. A Korunk fiatal szerzőinek antológiája, ed. Balázs Imre József, Korunk Komp-Press Kiadó, Kolozsvár, 2008,
Próbaidő. Prózaantológia, Palatinus Kiadó, Budapest, 2009,
A hibátlanság vágya. A Látó nívódíjai 1991–2009, szerk. Szabó Róbert Csaba és Vida Gábor, BookArt–Látó, Csíkszereda–Marosvásárhely, 2010,
RO/HU, bilingual Echinox edition, Babeș-Bolyai University, 2012 spring (http://revistaechinox.ro/)
I earned the Communitas Foundation's scholarship for young artists in 2008.
I got the debut prize of the Lató magazine in 2008.
A collection of my short stories (revolving around the city of Urbia/Linna) is about to be published in a book by the József Attila Kör, Hungary in association with Korunk, Romania.