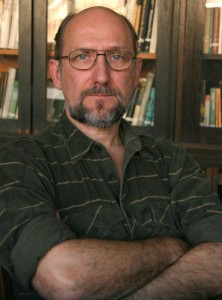 Gustav Murin (rođen 9. aprila 1959. godine u Bratislavi, u Slovačkoj) objavio je 20 knjiga (od toga 5 na češkom, jednu u prevodu na francuski, jednu na hindi): roman, novelu, dve zbirke priča, zbirku naučnofantastičnih priča, sedam zbirki eseja, opširnu studiju iz oblasti biologije, dve popularne studije (o braku, o dugovečnosti), studije o organizovanom kriminalu u glavnom gradu i celoj Slovačkoj, dve naučnopopularne enciklopedije, dve zbirke putopisa. Njegova najnovija knjiga o slovačkoj mafiji (Mafia na Slovensku, 2009), čije je prvo izdanje štampano u 20000 primeraka, dospela je na listu najprodavanijih.
Autor je više od 1200 članaka u 50 velikih slovačkih, čeških i međunarodnih novina i časopisa.
Gotovo 200 tekstova Gustava Murina preveno je na 36 jezika: u Avganistanu, Bangladešu, Bosni i Hercegovini, Bugarskoj, Hrvatskoj, Češkoj, na Kipru, u Francuskoj, Velikoj Britaniji, na Grenlandu, u Indiji, Italiji, Litvaniji, Makedoniji, Rumuniji, Ukrajini, SAD-u, itd.).
Gostovao je i predstavljao svoje knjige u mnogim zemljama: Jermeniji, Austriji, Kanadi, Hrvatskoj, na Kipru, u Francuskoj, Gruyiji, Indiji, Meksiku, Norveškoj, Poljskoj, Rumuniji, Srbiji, Švedskoj, Švajcarskoj, SAD-u…
Dobio je međunarodne stipendije za pisce: u SAD-u (1995, 1998, 2001, 2002), Poljskoj (1998), Švajcarskoj (2002.), Srbiji (2007.) i Grčkoj (2009).
www.gustavmurin.webgarden.cz/biography

Gustáv Murín (born April, 9th 1959 in Bratislava, Slovakia) published  20 books (incl. 5 in Czech + 1 in French translation + 1 in Hindi): Novel, novella, 2xcollections of stories, collection of sci-fi stories, 7xcollect. of essays, extensive essay-study about biology, 2x popular studies (about marriage, about longevity), retrospective studies about organized crime in capitol city and Slovakia, 2xpopular encyclopaedia, 2xcollections of travel stories. His latest book about mafia in Slovakia (Mafia na Slovensku, 2009) become bestseller with first print of 20 000 copies.
Author of more than 1200 articles in 50 major Slovak, Czech and international newspapers and magazines.
Almost 200 texts of Gustáv Murín were translated into 36 other languages (i.e. Afghanistan, Bangladesh, Bosnia and Herzegovina, Bulgaria, Croatia, Czech Republic, Cyprus, France, Great Britain, Greenland/Inuit, India/Hindi, Italy, Lithuania, Macedonia, Romania, Ukraine, USA etc.).
He had readings and literary presentations in countries like Armenia, Austria, Canada, Croatia, Cyprus, France, Georgia, Greece, India, Mexico, Norway, Poland, Romania, Serbia, Sweden, Switzerland, USA…
Obtained international writer´s fellowships: USA (1995, 1998, 2001, 2002), Poland (1998), Switzerland (2002), Serbia (2007) and Greece (2009).
www.gustavmurin.webgarden.cz/biography