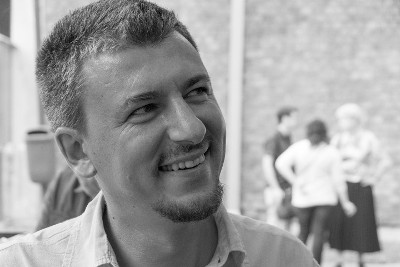 Bogdan Munteanu je rođen u Aradu, 28. aprila 1979. Živi u Temišvaru od 1997. godine. Objavio je tri knjige kratkih priča od kojih je najnovija Zaboravio si da se smeješ – izdavačka kuća Nemira, 2016. Takođe, njegove kratke priče objavljene su u nekoliko časopisa i antoligija u Rumuniji, Nemačkoj i Albaniji.
Organizovao je nekoliko kulturnih događaja koji promovišu književnost i rumunske savremene autore i održao je brojna predavanja u školama. Jedan je od koordinatora projekta Pisci su na Fejsbuku, koji je osvojio nagradu za najbolju PR/marketinšku kampanju u izdavaštvu knjiga u Rumuniji – Gala (2014).
Trenutno radi part-time u IT-u, piše roman, objavljuje članke i sarađuje s časopisom Bookaholic online i predvodi seriju događaja Kako si, pišče?, koju organizuje knjižara Cărturești u Temišvaru.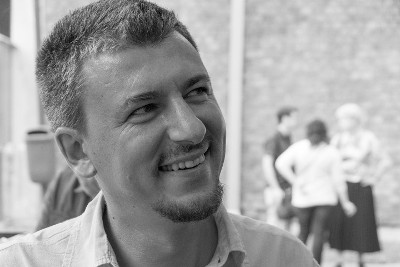 Bogdan Munteanu was born in Arad, on April 28, 1979. He has been living in Timişoara since 1997.
He published three short story books, the most recent one being Ai uitat să râzi (You forgot to laugh) – Nemira Publishing House, 2016. Also, his short stories appeared in several magazines and anthologies from Romania, Germany and Albania.
He organized cultural events to promote the literature and Romanian contemporary authors and held numerous lectures in schools. He coordinated, in collaboration, the project Scriitorii sunt pe Facebook (The writers are on Facebook), which won the award for the best campaign of PR/Marketing at Book Industry Gala in Romania (3rd edition, 2014).
He is currently working part-time in IT, writing a novel, collaborates with articles to Bookaholic online magazine and chairs the series of events Ce mai faci, scriitorule? (How are you doing, the writer?), organized by Cărturești bookstore in Timișoara.