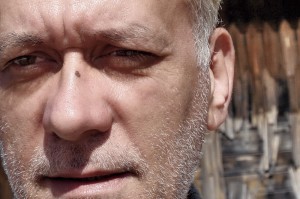 Edi Matić
Rođen je u Splitu 1962.
Studirao elektrotehniku u Splitu.
U svojoj agenciji bavi se ponajviše grafičkim dizajnom, ali i organizacijom koncerata, glazbenom i video produkcijom (uz autorsko sudjelovanje u nekoliko glazbenih brojeva i video spotova)
Vodio njemačku mirovnu i humanitarnu organizaciju na području Hrvatske i BiH
Producent mjuzikla "Sarajevski krug" (postavljen u 10-ak zemalja Europe i Amerike).
2007. rukopis "Ovdje fali ženska ruka" ulazi u finale VBZ-ovog natječaja za neobjavljeni roman. Roman je objavljen 2008. (Naklada Ljevak) i nominiran za nagradu Kiklop, a zatim u užem izboru za nagradu T-portala.
Vodi tehničku produkciju sajma knjiga u Puli;
2008. pokreće Udrugu za promicanje kulture i umjetnosti – Kurs, koja sada surađuje s mrežom Traduki (Pro Helvetia, Halma, Kultur Kontakt, Kulturvermittlung Steiermark…);
Uz izradu vizualnog identiteta, organizira i tehnički opslužuje hrvatske, a zatim i međunarodne nastupe na sajmovima knjiga u Leipzigu i Beču;
Piše nekoliko kratkih priča, a novi roman "Grimalda" izlazi na jesen 2011. (Naklada Ljevak)
Rado i radosno dolazi u Kikindu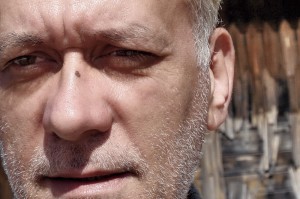 Edi Matić
He was born in Split in 1962.
He studied electrical engineering in Split.
In his agency deals mostly with graphic design, but also with organization of concerts, with music and video production (he participated as an author in several tracks and video clips)
He led Germany's peacekeeping and humanitarian organization in Croatia and Bosnia-Herzegovina;
He produced the musical "Sarajevo Circle" (set in about ten countries in Europe and America).
In 2007, the manuscript of "woman's hand is missed here" enters VBZ competition for an unpublished novel. The novel was published in 2008. (Ljevak printing) and nominated for the Cyclops award, and then shortlisted for the prize T-portal.
He leads technical production of book fair in Pula;
In 2008, he initiates the Association for Culture and Arts – Course, which now cooperates with Traduki network (Pro Helvetia, Halma, Kultur Kontakt, Kulturvermittlung Steiermark…);
Along with the creation of visual identity, he organizes and technically serves Croatian, and then international performances on the book fairs in Leipzig and Vienna;
He writes several short stories, and the new novel, "Grimalda", will be published in the autumn 2011 (Ljevak Printing)
He comes in Kikinda willingly and joyfully.