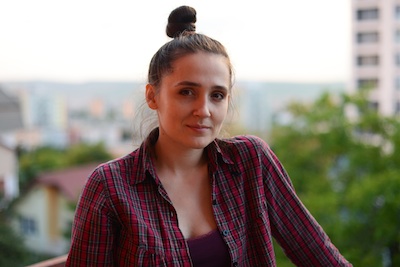 Lavinija Balulesku (1985, Rumunija) je novinarka i pisac. Objavila je tri knjige poezije: "Mov" (Ljubičasta), "Lavinucea" i "Zmeii sunt de treabă" (Zmajevi su dobri momci, koju je napisala sa svojim ocem Konstantinom Baluleskuom). Objavila je i roman "La mine-n cap" (Unutar moje glave) i zbirku kratkih priča "Terasa Fericirii" (Terasa sreće).
Kolumnistica je u novinama "Adevărul". Po njenim dvema kratkim pričama snimljeni su kratki filmovi reditelja Mariusa M. Bogdana. Živi u Cluž-Napoki.
LINKOVI:
Blog: http://fermadeganduri.ro/
Novinski članci: https://adevarul.ro/blogs/lavinia.balulescu
Najznačajniji intervjui: http://suplimentuldecultura.ro/25681/interviu-cu-scriitoarea-lavinia-balulescu-terasa-fericirii-a-fost-medicamentul-meu-pentru-frica/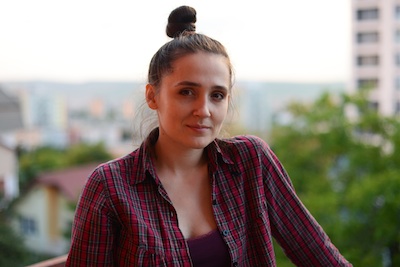 Lavinia Bălulescu (1985, Romania) is journalist and writer. She published three poetry books: "Mov" (Purple) – Prier Publishing House, "Lavinucea" – Cartea Românească Publishing House and Casa de Pariuri Literare Publishing House, "Zmeii sunt de treabă" (Dragons are good fellows, written together with her father, Constantin Bălulescu) – Paralela 45 Publishing House. Also she published the novel "La mine-n cap" (Inside my head) – Cartea Românească Publishing House and the short stories volume "Terasa Fericirii" (The Terrace of Happiness) – Polirom Publishing House.
She's a columnist for "Adevărul" (a romanian newspaper). Two of her short stories were transformed into short films by the director Marius M. Bogdan. She lives in Cluj-Napoca.
LINKS:
My blog: http://fermadeganduri.ro/
My texts from Adevărul: https://adevarul.ro/blogs/lavinia.balulescu
My most recent interview: http://suplimentuldecultura.ro/25681/interviu-cu-scriitoarea-lavinia-balulescu-terasa-fericirii-a-fost-medicamentul-meu-pentru-frica/