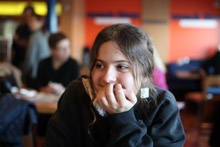 Ilka Papp-Zakor
Rođena sam u Klužu u Rumuniji, a tamo sam i naučila da čitam i pišem.
Napisala sam prvi tekst kad sam imala četiri godine – bila je to uspavanka za miša.
I dopalo mi se pisanje.
Imala sam dovoljno sreće da mi se tekstovi objave u jednom dečjem časopisu. I dopalo mi se što su objavljeni.
Tada sam shvatila čime želim da se bavim u životu – pisanjem.
Desetak godina kasnije prešla sam s poezije na prozu. U međuvremenu zainteresovala sam se za biologiju i počela da sanjam o tome da postanem etolog, ali na kraju sam odlučila da studiram filologiju i postanem slavista.
Studirala sam rusku i mađarsku filologiju u Klužu, potom se preselila u Varšavu i pohađala kurseve češkog i slovačkog jezika na Univerzitetu u Varšavi. Potom sam nastavila s učenjem ruskog jezika u Krakovu na Jagelonskom univerzitetu, gde sam takođe pohađala kurseve poljske književnosti.
Potom sam najzad dobila master diplomu iz mađarske književnosti za komparativnu studiju o mađarskoj, ruskoj, poljskoj i češkoj pop-kulturi i preselila sam se u Helsinki, gde sam naučila finski i poluzvanično pohađala kurseve biologije na univerzitetu.
Takođe sam unapredila veštite treniranja pacova i konačno se preselila nazad u Centralnu Evropu, u Budimpeštu. Trenutno učim hebrejski i sanjam o tome da se preselim u Izrael.



Gal Šoma (1992) je rođen u Kesthelju, a od 2011. je student ELTE-BTK na smeru za portugalki i mađarski jezik. On je prozni urednik i osnivač časopisa Apokrif. Objavljuje kratku prozu, pesme i dokumentarce. Trenutno živi u Budimpeštii Šarmeleku.Nagrađivan je na nekoliko mađarskih književnih festivala. Objavljivao je kratke priče u književnim časopisima Apokrif, Új Forrás, Forrás, Hévíz, Pannon Tükör, Irodalmi Jelen.Prevodi poeziju s portugalskog na mađarski jezik. Svoju prvu knjigu Sármesék objavio je 2016. godine.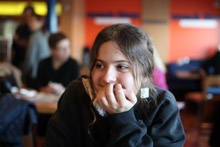 Ilka Papp-Zakor
I was born in Cluj-Napoca, Romania, and it was also there that I learned to read and write.
I wrote my first text when I was four – it was a lullaby for a mouse.
And I liked writing.
I was lucky enough to get my writing published in a magazine written for and by children. And I liked having it published.
It was then that I realized what I wanted to do in my life was to write.
About ten years later I switched from poetry to prose. In the meantime I also got interested in biology and started to dream about becoming an ethologist, but finally I decided to study philology and become a Slavist.
I studied Russian and Hungarian philology in Cluj-Napoca, then moved to Warsaw and attended Czech and Slovak language courses at the University of Warsaw. Then I studied some more Russian in Cracow at the Jagiellonian University, where I attended also courses on Polish literature.
Then I finally received an MA degree in Hungarian literature for a comparative study about Hungarian, Russian, Polish and Czech pop culture and I moved to Helsinki, where I learned Finnish and semi-officially attended biology courses at the university.
I also improved my rat training skills, and finally moved back to Central Europe, to Budapest. At the moment I am learning Hebrew and dreaming of moving to Israel.



Soma Gál (1992) was born in Keszthely. He moved to Budapest and studied Portuguese literature, grammatics and culture on Eötvös Loránd University. Also he was living and studying in Porto, Portugal for a semester. He's a novelist, poet and editor, he published his first book this year with the title Sármesék (Tales of mud). He won prizes in several hungarian literature festivals and competitions. Many of hungarian literature magazins published his short stories before, such as Apokrif, Új Forrás, Forrás, Hévíz, Pannon Tükör, Irodalmi Jelen. Since 2012 he's working for the literature magazin named Apokrif, initially as editors' assistant, than PR person, and since January in 2015 he's the editor of prose. Also he translate contemporary portuguese poets to hungarian.