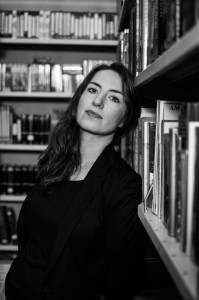 Rumena Bužarovska je rođena 1981. godine u Skoplju, Makedonija. Autor je zbirki priča Žvrljotine (Ili-ili, 2007), Umnjak (Blesok, 2010; Algoritam, 2015) i Moj muž (Blesok, 2014, Ili-ili, 2015), kao i studije humora u književnosti O smešnom: teorije humora kroz prizmu priče (Bljesak, 2010). Prevodi književnost sa engleskog na makedonski jezik (Dž. M. Kuci, Luis Kerol, Truman Kapot, Ričard Gvin) i radi kao docent na državnom univerzitetu u Skoplju.
Intervjui na srpskom, hrvatskom i engleskom:
http://www.jutarnji.hr/pise-iz-perspektive-djeteta-ciji-je-otac–zigosan–kao-lupez/1333932/
http://kontrapress.com/clanak.php?rub=Razgovori&url=Gradjani-Makedonije-su-pobedili-strah
http://www.tportal.hr/kultura/knjizevnost/375683/Bijes-ce-progutati-strah-i-paranoju-u-Makedoniji.html
http://studiophoenix.blogspot.com/2015/03/rumena-buzarovska-q.html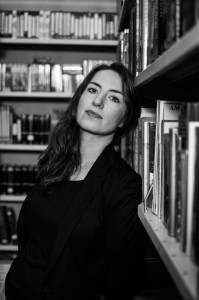 Rumena Bužarovska was born in 1981 in Skopje, Macedonia. She is the author of the short story collections Scribbles (Чкртки, Или-или, 2007) Wisdom Tooth (Осмица, Blesok, 2010; Algoritam, 2015) and My Husband (Blesok, 2014, Ili-ili, 2015), as well as a study on humor in literature What's funny: the theories of humor applied to short stories (Blesok, 2012). She is a literary translator from English into Macedonian (J.M Coetzee, Lewis Carroll, Truman Capote, Richard Gwyn) and assistant professor of American literature at the state university in Skopje.
Links to interviews in Croatian, Serbian and English:
http://www.jutarnji.hr/pise-iz-perspektive-djeteta-ciji-je-otac–zigosan–kao-lupez/1333932/
http://kontrapress.com/clanak.php?rub=Razgovori&url=Gradjani-Makedonije-su-pobedili-strah
http://www.tportal.hr/kultura/knjizevnost/375683/Bijes-ce-progutati-strah-i-paranoju-u-Makedoniji.html
http://studiophoenix.blogspot.com/2015/03/rumena-buzarovska-q.html