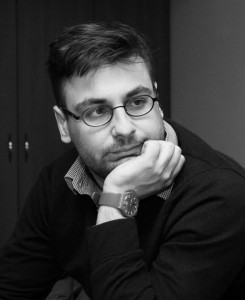 Petar Denčev je bugarski pisac naučne fantastike i pozorišni reditelj. Debitovao je pričom "Malakoff, želim da ostarim", koja je pobedila na konkursu Ectasy magazina Altera 2006. godine. Ista priča je kasnije štampana u američkom časopisu "The Litter Box Magazine" (2010). U međuvremnu, Petar Denčev je osvojio nekoliko nagrada za poeziju, dva puta je osvojio drugo mesto na Nacionalnom takmičenju u poeziji za mlade pisce "Vesselin Hantchev" 2006. i 2010. godine. Denčevljev roman "Kao što čovek ljubi voljenu ženu" osvojio je prvu nagradu na konkursu za najbolje nove bugarske romane "Razvitie" 2007. godine. Sledeće godine isti roman dobija specijalnu nagradu Raiffeizen Banke na nacionalnom tekmičenju South Spring. Njegov kratki roman "Jednostavna priča" osvaja drugo mesto na takmičenju Ciela's Novel Prize 2008. godine. Tekstovi Petra Denčeva su objavljivani u mnogobrojnim bugarskim časopisima kao što su Capital LIGHT, Altera, Vagabond, Prostori. Takođe je objavio zbirku priča "Priče iz prošlosti" (2011) i "Tiho sunce" (2012).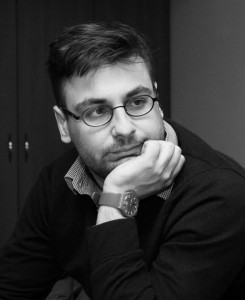 Peter Dentchev is Bulgarian fiction writer & theatre director. Dentchev's first literary appearance was the short story "Malakoff, I Want to Grow Old", which won Altera magazine's contest Ecstasy in 2006. It was also later published in English in the American magazine "The Litter Box Magazine" (2010). In the meantime, Peter Dentchev has won various poetry contests as the second place at the National Youth Poetry Contest "Vesselin Hantchev" in 2006 and 2010. His novel "Just like a Man Kisses a Woman He Loves" won the first place at the contest for Best New Bulgarian Novels "Razvitie" in 2007. The next year the same novel won the special prize of "Raiffeizen Bank" at South Spring National contest. In 2008 with his short novel "Simple Story" he wins the second place at Ciela's Novel Prize Competition. Peter Dentchev has published in various Bulgarian magazines: Capital LIGHT, Altera, Vagabond, Prostori etc. He is also author of "Stories from the Past" (2011) a short story collection published by "Janet 45". His new book "The Silent Sun" (2012) is published again by "Janet 45".
Dentchev is also director of the following performances: The Death & The Devil (Youth Theatre, Sofia, 2009), Squabbles (National Academy for Theatre, 2010), The Maids (National Academy for Theatre, 2010) and The Woman Before (State Drama Theatre Pazardjik, 2011). His latest theatre projects are Carnaval (2012) by Catalan author Jordi Galceran at "Geo Milev" State Drama Theatre in Stara Zagora and Medea (2012) after Euripides, Anouilh & Dreyer at "Sava Ognyanov" State Drama Theatre in Ruse, Seascape (2013) by Edward Albee at "Ivan Vazov" National Theatre in Sofia, Romeo & Juliet (2013) State Drama Theatre Stara Zagora, Burundanga (2014) State Satire Theatre Sofia, Murder at the express (2015) State Satire Theatre.
www.peterdentchev.wordpress.com
www.peterdentchevportfolio.wordpress.com