Dzvenislava Matijaš (Дзвенислава Матiяш) je rođena 1978. Kijevu, Ukrajina.
Diplomirala je teoriju i istoriju književnosti na kijevskom univerzitetu, a doktorske studije (Poljska religiozna poezija) na Evropskom kolegijumu poljske i ukrajinske književnosti u Poljskoj.
Autor je dva romana (Novembarski rekvijem, 2005. i Roman o domovini. 2006), bajki za decu i njihove roditelje Piatinkske priče, 2010. i knjige kratkih priča Priče o ružama, kiši i soli, 2012. Ova knjiga je dobila nagradu Kovaliv fondacije kao najbolja prozna knjiga u Ukrajini za 2012. godinu. Bila je u najužem izboru BBC za knjigu godine, a 3 priče iz knjige su objavljene u knjizi Njihove priče: Antologija novih ukrajinskih proznih spisateljica (Velika Britanija, 2014). Ove godine će joj biti objavljena knjiga za decu Dan Sneška Belića.
Dzvinka Matijaš prevodi s poljskog, beloruskog i ruskog jezika.
Saradnik je Poljskog institute u Kijevu i član žirija za dodelu nagrade za mlade prevodioce Metafore iz Kijeva.
---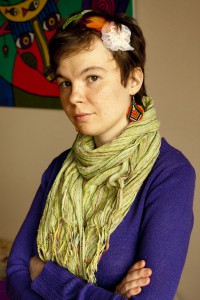 Galina Tkačuk (Галина Ткачук) je rođena 1985. u Ukrajini. Piše poeziju, kratke priče i knjige za decu. Na doktorskim je studijama filozofije književnosti u Kijevu.
Ona je student "Filozofije književnosti" doktorskog studija, Nacionalnog sveučilišta "Kyiv-Mohyla akademije", Kijevu, Ukrajina.
U Ukrajini je objavila: Біле благо (Belo blago), poezija, 2003, Славка (Slavka), kratke priče, 2006, Вікно до собаки (Prozor za psa), dečji roman, 2011, Найкращі часи (Najbolje vreme) , kratke priče, 2012, Вечірні крамниці вулиці Волоської (Večernje trgovine u Voloskoj ulici), dečji roman, 2014.
Objavljivala je poeziju i kratke priče prevedene na poljski u antologijama i časopisima, kao i zbirku poezije Я та інші красуні/Ja i inne piękności (Ja i druge lepotice), 2011.
Dobila je međunarodne stipendije za pisce:
avgust 2009 – boravak u Međunarodnoj kući za književnike i prevodioce, Ventspils, Litvanija;
februar-juli 2011 – Gaude Polonia stipendija: Program za mlade strane kulturne radnike u Krakovu, Poljska
Dobitnik je književnih nagrada
2010 – prva nagrada na ukrajinskom takmičenju za najbolju knjigu za decu Золотий лелека (Zlatna roda).
2012 – za knjigu Золота Пір'їна (Zlatno perje) dobija nagradu dečjeg časopisa Ангелятко (Anđelčić).

Dzvinka Matiyash was born 1978 in Kyiv, Ukraine.
Graduated from Kyiv-Mohyla Academy (theory and history of literature), finished doctoral studies (Polish religious poetry) in European Colegium of Polish and Ukrainian Universities (Lublin, Poland).
She is autor of two novels «Rekvijem dlia lystopadu» (Requiem for November) (2005, 2007), «Roman pro batkivshchynu» (The Novel about Motherland) (2006, polish translation 2014), fairy tales for children and their parents «Kazky Piatynky» (Piatynka's Tales) (2010) and the book of short stories «Istoriji pro trojandy, doshch i sil» (Stories about the roses, rain and salt) (2012). This book won the prize of Kovaliv's Foundation (USA) for the best book of Ukrainian prose in 2012, and it was in a short list of the BBC contest "Knyzhka roku" (The Book of the Year). 3 short stories from this book were published in Herstories: An Anthology of New Ukrainian Women Prose Writers (UK, 2014).
The book for children "Den Snihovyka" (The Snowman's day) is to be published in 2014.
Besides literary activity Dzvinka Matiyash translates from Polish, Belarusan and Russian. Her main translations are collections of poetry by polish poet Jan Twardowski "Herbarij" (Herbarium) (2008) and "Shche odna molytva" (One More Prayer) (2009), Imperium (2012) by famous Polish reporter and traveller Ryszard Kapuscinski, book of conversation with famous Polish painter Jerzy Nowosielski "Rozmovy z Jerzy Novosielskym" (2011), reportings by young Polish reporter Witold Szablowski "Ubyvtsia z mista abrykos" (polish title Zabójca z miasta moreli) (2012), novel "Myszka" (polish title "Poczwarka") (2013) by polish writer Dorota Terakowska and poems for the anthology of the contemporary Ukrainian and Belarusan poetry "Zviazokrozryv\Suviaz'razryu" (2006).
Currently she tightly cooperates with Polish Institute in Kyiv, as well she is a member of jury panel of Metaphora award for young translators (Kyiv).
---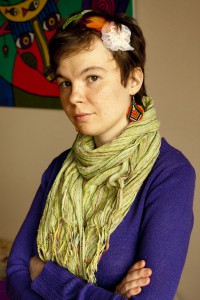 Galyna Tkachuk (Галина Ткачук), born 1985 in Khmelnytskyi, Ukraine, is author of poetry, short stories and children's books.
She is student of "Philosophy of Literature" PhD program, National University of "Kyiv-Mohyla Academy", Kyiv, Ukraine.
Main publications in Ukraine: Біле благо (The White Good), poetry, 2003, Славка (Slavka), short stories, 2006, Вікно до собаки (A Window to a Dog), children's novel, 2011, Найкращі часи (The Best Times), short stories, 2012, Вечірні крамниці вулиці Волоської (Evening Shops of Voloska street), children's novel, 2014.
She published poetry and short stories in Polish translation in anthologies and magazines.
International writing scholarships: February-July 2011 — The Gaude Polonia Scholarship Programme for Young Foreign Cultural Professionals in Kraków, Poland; August 2009 — residency in the International Writers' and Translators' House, Ventspils, Latvia.
Literary awards
• 2010 — first prize in the Ukrainian contest for the best works for children "Золотий лелека" (Golden Stork).
• 2012 — "Золота Пір'їна" (Golden Feather), the award of the children's magazine "Ангелятко" (Little Angel).