Serbia


Photo: Dragan Mujan

Ana Vučković (married – Vučković Denčić) (1984) has graduated dramaturgy from the Faculty of Dramatic Arts in Belgrade, where she has obtained her master degree in filmology as well
She is a journalist of Radio Belgrade 2, where she is mainly focused on film themes.
She is a columnist of City Magazine. She writes columns for web portal Nova.rs.
Her stories have been published in following collections of short stories: "A Shout!" and "The Queen Lear and Her Children" (2017) and her poems in 33rd issue of "Rukopisi", the magazine for poetry and short prose of the young from the region of former Yugoslavia. She was elected twice for the narrowest selection for the prestigious NIN award.

https://www.oblakoder.org.rs/ana-vuckovic-dencic-sve-sto-sam-pisala-bilo-je-licno/
https://www.vreme.com/cms/view.php?id=1761013
https://www.bbc.com/serbian/lat/srbija-53931435
https://kljucaonica.com/2020/02/09/otkljucavanje-ana-vuckovic/
https://buro247.rs/kultura/razgovori/ana-vu-kovi-den-i-divim-se-onima-koji-se-dive.html
https://www.designscene.net/2020/03/books-to-read-in-self-isolation.html
https://www.mixcloud.com/dejankozul/kupek-260-ana-vu%C4%8Dkovi%C4%87-jugoslaviju-smo-ubili-ali-yugoslava-nikad/
https://nova.rs/tag/ana-vuckovic/
https://citymagazine.danas.rs/kolumne/zena-na-ivici-nervnog-sloma-halkidiki/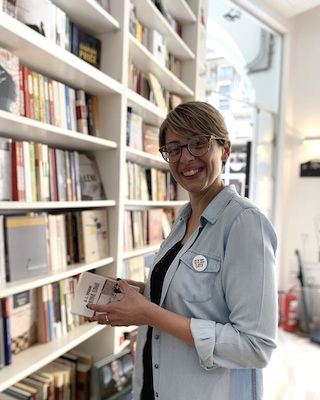 Milena Živkov was born in Kikinda in 1989. She graduated from the Faculty of Philology in Novi Sad where she obtained bachelor and master degrees at the department for Serbian language and literature.
She has been working as a teacher of Serbian language and a librarian.
She has published two books of short stories – "A Soap Bubble" and "An Attempt of Life".
She publishes her stories in magazines and web portals.